*FYI - this post may contain affiliate links, which means we earn a commission at no extra cost to you if you purchase from them. Also, as an Amazon Associate I earn from qualifying purchases. Check out our Privacy Policy and Disclosure. for more info.
In need of the perfect pierogi pun to finish off an Instagram caption, cute greeting card or message?
You're in the right place. As an enthusiast of dumpling types from all around the world, and a shameless pun lover, I've come up with all kinds of wonderful pierogi puns to torment my friends and family.
… And lucky for you – it's your turn!
I've already written lists full of gnocchi puns, dim sum puns, dumpling puns and bao puns. Now it's time for some pierogi puns and wordplay to pair like the perfect side dish with your photos… Enjoy!
NOTE: Pierogi is the correct Polish spelling, but it has been adapted to other languages in various spellings like "Perogy, Perogies" etc. Feel free to adapt the pierogi puns below to reflect your spelling of choice!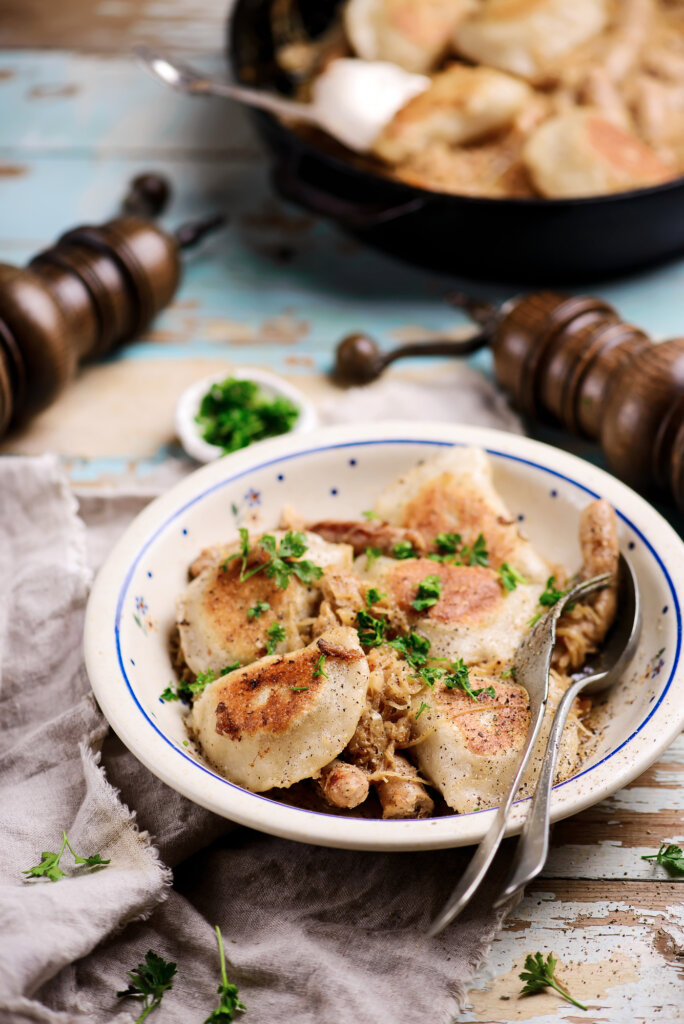 Fun Pierogi Puns for Instagram Captions
Let's start with simple punny perogy Instagram captions that you can steal. Whether you need the perfect caption to go with homemade pierogi made from scratch (here's my guide to dough) or pierogi eaten out, these caption ideas are sure to please.
Eating this many pierogi at once? That's my Pierogi-tive.
These dumplings are the Piero-key to my heart.
Me + these dumplings = the perfect Pair-ogy.
Getting piero-geeky tonight!
You say Pierogi, I say pierog-eat.
I don't know ballet but I do love a good Pierogi-ette.
Objects may be closer than they a-Pierogi.
Pier-ogi dokie – these are some of the best Polish dumplings I've had in my life.
I definitely ate too many pierogi, but I refuse to aPolish-ize for that.
Oh what I wouldn't piero-give to eat that meal again.
Pieroh-my-gosh – this meal couldn't have been better.
Definitely Polished off that plate of Pierogi in record time…
A pierogi pun as a caption? Nah, too cheesy.
Piero-guess what I ate today?
Cute Pierogi Puns to Send to Someone Special
In need of a cute perogy pun for the special someone in your life? Whether you need pierogi puns for your girlfriend, boyfriend, husband, wife, crush, or bestie, these are perfect to pero-give.
Loving you is my Pierogi-tive.
You and I make a great Pair-ogi.
I was gonna send you a cute Perogy pun, but I was scared that'd be too cheesy.
You hold the Piero-key to my heart
Perogy Jokes
What was the Polish chef's favorite cocktail?
Apierogi Spritz
Why did the two pierogi get married?
They made a great pair-ogi.
What do you call a nerdy perogy?
A pero-geek.
What do you call geese in Poland?
Piero-geese.
Did we miss any of your favorite pierogi puns?
Let us know in the comments!