Of all the delicious dumplings from around the world that I've tried, pierogi are still one of my absolute favorites.
If you've never had them – perogies (or pierogi in the original Polish spelling) are tasty little dumplings that are typically boiled and then pan-fried in butter and tossed with seasonings before serving.
Available in both sweet and savoury iterations, perogies are a truly versatile food that everybody needs to try at least once.
Perogy dough goes well with everything. Savory perogy fillings can include potato, cheese, sauerkraut, ground meat, and even mushrooms, while sweet pierogi are typically made with fruit. And although tasty served alone, you may be wondering what to serve with pierogi to make a full and satisfying meal.
Well, whether served as a side dish or a main dish, you can make all kinds of amazing meals with perogies.
So, to help you out, I've enlisted the help of some food blogger friends to bring you a lengthy list of pierogi side dishes, including typical/authentic toppings, as well as other yummy soups, salads and veggies that go well with perogies for dinner.
Whichever you pick is 100% your Perogi-tive. Now, enough to the pierogi puns… Let's get to it!
Save this post on Pinterest for later:
Pierogi or Perogy: Which is Correct?
Throughout this post, I use various spellings of "pierogi".
This is simply because it is spelled differently depending on where you are, so I wanted to make the post friendlier for search engines on a global scale.
Make no mistake though – Pierogi is the proper Polish spelling.
Moreover, you should know that "Pierogi" in Polish is also already plural, so technically saying "Pierogis" would be incorrect.
Nonetheless, as Pierogi have infiltrated global cuisine, they have taken on new spellings that you might recognize like "Perogy" and "Perogies", which are commonly seen in North America.
No matter how spell them, Pierogi are delicious, and that's all that matters! But hey, now you know.
General Ideas for What to Serve with Perogies
The history of pierogi dates back to the 13th century, which means the dish has had plenty of time to evolve, adapt, and conquer.
Today, perogies are enjoyed in a multitude of different ways all over the world.
For those of you hoping to stay true to authentic Polish style perogies, I'm going to start you off with some "typical" and traditional pierogi toppings, along with Polish dishes to accompany them.
Then, in the next few sections, I'll be sharing some dishes that pair well with perogies, even if they're not that traditional.
How to have pierogi as a filling meal on their own:
Honestly, perogies are usually just served on their own since they're so filling as they are. Nonetheless, tasty toppings can help seal the deal and take your perogies to the next level. Here are some common ones:
For both savoury and sweet perogies: The traditional and most simple way is simply melted butter, but I always like to add some extra toppings to kick the flavour up a notch, like the ideas below.
For savoury pierogi: Sour cream, bacon bits and onion. This is a classic, and pretty much my go-to anytime I enjoy perogies!
For sweet pierogi: Sweet cream, fresh fruit, cinnamon, or honey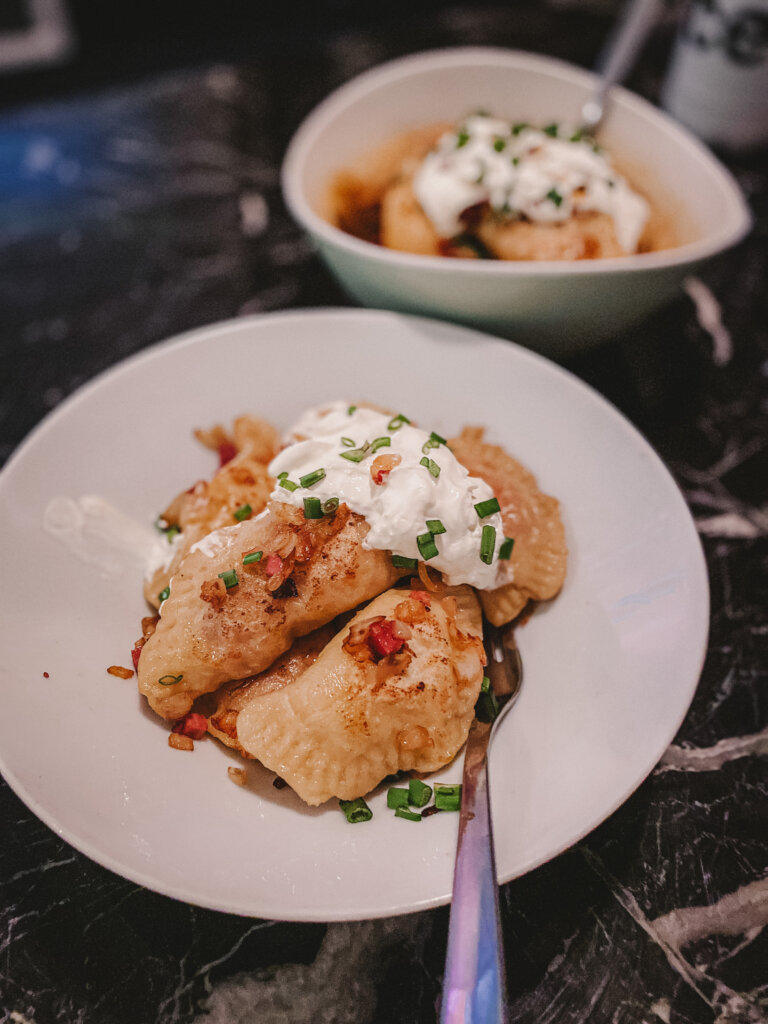 Typical Polish side dishes to have with perogies:
As mentioned above, I've heard it's not that common to eat pierogi with a bunch of other sides since they're already so filling. A light soup or some greens are a common accompaniment, but not always needed. Nonetheless, here are some typical Polish sides to try with your pierogi feast:
Soups to Serve with Pierogi
Alright, now that we have all the most traditional pierogi side dishes out of the way, let's get going with some more ideas (and recipes) contributed by blogger friends.
Because perogies are so heavy, often soups are the go-to side dish or accompaniment. We already talked about Borscht, a popular eastern European recipe that is often served with perogies.
Well, let's start with a recipe for this yummy beet soup and then move on to several other luscious soups to eat with pierogi.
1. Borscht Soup
Borscht is a classic soup made colorful by the beets that are the main ingredient in the recipe. Top it with a dallop of sour cream and some dill for a conforting side dish to eat with pierogi.
Click here to get the recipe from Freezer Meals 101.
2. Winter Squash Soup
Healthy and hearty, this Winter Squash Soup is perfect for serving with perogies to make a fulfilling meal the whole family will love.
Click here to get the recipe from Wholesome Family Living.
3. Roasted Tomato Soup
Ladle up a big bowl of this delicious and creamy roasted tomato soup and serve it with a pile of perogies and a big dollop of sour cream.
Click here to get the recipe from The Chowdown Blog.
4. Roasted Golden Beet and Delicata Squash Soup
Golden Beets and Delicata Squash make a delightful pairing of flavors and nutrient-dense health benefits to enjoy with perogies.
Click here to get the recipe from Just Beet It.
5. Easy Instant Pot Chili
If you have never topped your pierogis with chili you are in for a real treat. Don't forget to top them with some cheese and sour cream for a yummy dinner you won't forget.
Click here to get the recipe from Any Reason Life.
Salads to Eat with Perogies
If you are wondering "what can I serve with pierogi," you can never really go wrong with a salad. After all, they're not the healthiest meal out there!
Greens and veggies are the perfect compliment to perogies, and here are some recipes you can test out:
6. Herb Salad with Shaved Parmesan
Fresh mint, watercress, dill, chives, and parsley give this salad a fresh flavor. Everything is tossed with an assertive lemon, vinaigrette then topped with shaved parmesan cheese.
Click here to get the recipe from Craving California.
7. Roasted Cauliflower Salad with Arugula, Walnuts and Gruyère
Best served warm, this healthy and tasty salad is made with peppery arugula, roasted cauliflower, crunchy walnuts, and creamy gruyère! Roast the cauliflower in advance for easy to assemble side dish.
Click here to get the recipe from Gastrono Therapy.
8. Sautéed Kale with Cider Vinegar
This tangy, warm salad has sweet onions and a tangy cider vinegar dressing. Sauteeing the kale makes it soft and tender so everyone will enjoy this side dish.
Click here to get the recipe from Healthy Seasonal Recipes.
9. Creamy Cucumber Salad
This creamy cucumber salad is made with a delicious dill dressing that boasts a bright flavor profile. Accented with radishes and lemon zest, this colorful side dish is the perfect side dish for perogies.
Click here for the recipe from Confetti and Bliss.
10. Broccoli Salad with Raisins
This colorful and nutritious broccoli salad with raisins is easy to make and the raisins give it a pleasing sweetness that goes perfectly with savory perogies.
Click here to get the recipe from We Dish it Up.
11. Roasted Vegetable Salad with Balsamic Reduction
Roasting vegetables brings out a nutty, savory flavor and pairing them with a balsamic reduction creates an earthy salad that goes well with savory dishes like perogies.
Click here to get the recipe from Trendgredient.
12. Roasted Pumpkin and Beetroot Salad
Roasted Pumpkin and Beetroot Salad is flavorful and the pinenuts and pepitas add a lovely crunch that is satisfying .
Click here to get the recipe from Maple and Mango.
Vegetable Pierogi Side Dishes
When you're wondering what do you serve pierogi with, a great answer is always roasted vegetables. Gotta get those nutrients in somehow!
So, from broccoli to beets and asparagus to carrots, and potatoes you will love these pierogi sides… which are pretty healthy to boot!
13. Roasted Brussels Sprouts with Bacon
Roasted Brussels sprouts with bacon is the perfect sheet pan side dish to eat with pierogi. The crunchy and salty bacon has a caramelized flavor and pairs well with the flavor of the Brussels sprouts and is a classic accompaniment to perogies.
Click here to get the recipe from Salt and Baker.
14. Skillet Asparagus
This asparagus recipe is so insanely easy and delicious! In just 10 minutes, you can enjoy a no-frills skillet side dish recipe that's healthy and just tastes great!
Click here to get the recipe from Bomb Veg.
15. Oven Roasted Turmeric & Cumin Carrots
This simple side dish is warm, spicy, tender, and comforting. It's easy to make and adds a nice touch of color when served with perogies.
Click here to get the recipe from Mae's Menu.
16. Air Fryer Green Beans
This Air Fryer Green Bean recipe is a simple and delicious side dish that comes together in minutes! It will be delicious with perogies.
Click here to get the recipe from Recipes from a Pantry.
17. Garlic Butter Instant Pot Red Potatoes
These buttery and herby potatoes cook in minutes and come out perfectly tender and creamy every time. This is the perfect dinner idea with perogies.
Click here to get the recipe from Budget Delicious.
18. Garlic Roasted Beets
Nutty and flavorful roasted beets are cooked so they have just a bit of crunch to them. Super satisfying, everyone is going to love this earthy side dish.
Click here to get the recipe from Wholesome Family Living.
19. Balsamic Spinach and Mushrooms
Incredibly fast and easy this side dish is also super healthy! These Balsamic Spinach and Mushrooms are going to be a new favorite and can be made in under 20 minutes!
Click here to get the recipe from Served from Scratch.
20. Oven Roasted Broccoli
With only 4 basic ingredients, this easy and healthy oven roasted broccoli is a fast and easy side dish, the perfect accompaniment to any dinner!
Click here to get the recipe from Salt and Baker.
21. Steamed Brussels Sprouts with Parmesan
These Brussels sprouts are tender, bright green, and buttery with a slight tang from the white wine vinegar that really goes well with the salt and Parmesan cheese.
Click here to get the recipe from Keen for Keto.
22. Spicy Roasted Cauliflower
This chilli roasted cauliflower is a delicious and easy side dish made with a whole cauliflower cut into small florets and seasoned with paprika, salt, pepper, and garlic powder along with a tablespoon of hot sauce.
Click here to get the recipe from Healthy Life Trainer.
23. Easy Creamed Corn
With just a few moments and a few simple ingredients you can make flavory and creamy creamed corn to serve with your pierogi dinner.
Click here to get the recipe from The Soccer Mom Blog.
Cabbage Pierogi Side Dish Ideas
It's hard to imagine serving pierogi without cabbage. This popular pierogi side dish is flexible and can be made so many different ways. Here are some ideas:
24. Crunchy Quinoa Cabbage Salad
You'll love how easy this Healthy Quinoa Cabbage Salad is to make! It's perfect as a side dish and includes black beans for extra protein and carrots and sunflower seeds for a bit of added crunch.
Click here to get the recipe from Thrifty Frugal Mom.
25. Quick Pickled Cabbage
Sour pickled cabbage pairs perfectly with savory perogies. This quick and easy pickled red cabbage is made with just a handful of simple ingredients and NO sugar.
Click here to get the recipe from Cook At Home Mom
26. Skillet Cabbage and Sausage
Easy and flavorful sautéed cabbage is paired with smoky sausage for a tasty, low carb side dish to eat with pierogi.
Click here to get the recipe from Keto Cooking Wins.
27. Cabbage and Bacon
Loaded with herbs, this cabbage side dish also has the salty, smoky flavor of bacon. Plus, it's ready in about 30 minutes.
Click here to get the recipe from Happy Foods Tube.
28. Asian Red Cabbage Slaw
Asian Red Cabbage Slaw stands out with its brilliant purple hue and accents of carrot, green onion, cilantro and with a subtle flare of diced poblano and jalapeño peppers. Chop some roasted cashews for a little extra salty crunch!
Click here to get the recipe from Give it Some Thyme.
Creative Pierogi Toppings
Some people believe that the only topping you should serve with pierogi is butter or if you're feeling especially daring, sour cream. While delicious, if you don't branch out a little, you will be missing out. So, gather up the sour cream, onions and bacon but also try out one of these surprising pierogi toppings for a new experience.
29. Easy Coriander Sauce
This easy homemade coriander sauce adds a spicy fresh kick to perogies! Coriander gives this sauce an intense flavor and deep green color, and fresh green chilies add up the heat.
Click here to get the recipe from Get Set Vegan.
30. Creamy Zucchini Sauce
If you want to take a pile of pierogi to the next level, toss them with a flavorful zucchini sauce. Made with paprika-roasted zucchinis, sour cream, garlic, and fresh herbs, it tastes great with perogies.
Click here to get the recipe from Cooktoria.
31. Slow Cooker Applesauce
Enjoy easy homemade apple sauce without all of the work of peeling is possible when you make it in your slow cooker or instant pot. The sweet sauce goes perfectly with perogies and is a classic pierogi topping.
Click here to get the recipe from Strength and Sunshine.
32. Sautéed Mushrooms
Mushrooms are loaded with vitamins and minerals so they make a tasty and healthy topping for perogies. A scoop of delicious mushrooms will make this meal a favorite in your house.
Click here to get the recipe from In The Kitch.
What other Pierogi Side Dishes Would You Recommend?
Let me know in the comments!