Dumplings are one of those rare magical foods that (in my opinion) go amazing with everything. It's easy to get overwhelmed by the possibilities though, so if you're on the hunt for what to serve with Chinese dumplings & potstickers, I've got you.
Whether you're cooking up frozen dumplings or making your own BBs from scratch (check out my foolproof pork dumpling recipe, dumpling folding techniques & must-have dumpling tools if you are), here are some truly tasty sides to serve with Chinese dumplings and potstickers that are wayyy better than takeout.
NOTE: The term "Chinese dumplings" is pretty broad, but for the purpose of this post, I'll assume you're looking for side dishes that pair well with jiaozi, AKA potstickers. These are dumplings where seasoned meat and veggies are wrapped in a tender dough and boiled, steamed, or fried… usually best steam-fried though!
You can read my post about Dumplings from Around the World for a more in-depth list of various types of dumplings from China and beyond… but I have a Filling you're too hungry for that right now so let's just get going with ideas on what to eat with Chinese dumplings… now.
I apologize in advance for all the dumpling puns.
General Ideas for What to Serve with Chinese Dumplings
I must first confess something: if you are wondering what to eat with Chinese dumplings, my honest answer is ANYTHING.
The beautiful thing about potstickers is that they are amazing on their own, smothered in sauces, thrown on top of noodles, or simply one of many tasty dishes to be consumed family style as part of a grand Asian feast.
I grew up in a Chinese-Canadian household where dumplings were literally consumed alongside anything – from milk and fried chicken to more conventional sides like soup, fried rice and noodles.
And given the vast culinary differences within China itself, along with endless adaptations from the global Chinese diaspora, I'm not going to attempt a list of "authentic Chinese dumpling sides"… because I'm not sure that even exists. Maybe it's just my family, but we kind of just eat dumplings with everything.
Instead, what I'm sharing with you is a list of fun ideas (and recipes below) for dishes that will pair well with potstickers for the ultimate Asian feast. Dumplings are often a street food eaten on their own, but when it comes to dining at restaurants, they're commonly side dishes themselves that are also eaten with soup, rice, veggies, and dessert in addition to the dumplings.
Anyways, when you're looking to enjoy takeout-style food at home, my top recommendation is to either pig out with a BUNCH of dumplings or make a whole ensemble of dishes for a feast type situation. I'll share some general ideas here, but you can scroll down for recipe recommendations from food blogger friends of mine.
How to have dumplings as a filling meal on their own:
Often when I eat Chinese dumplings at home, I just enjoy them on their own/with one side. Here are some quick ideas for transforming dumplings into a more well-rounded, filling meal:
Smother them in chili oil. This is a classic, no-fuss way to enjoy Chinese dumplings. Boiled dumplings with chili oil is incredible. My slightly sacrilegious recommendation if you don't like spice is to try sweet chili sauce (better if the dumplings are fried). SO GOOD!
Serve them in broth with some noodles like a wonton soup. This of course is best if you're working with wontons, but honestly boiled potstickers in broth + noodles is a fine substitution for an authentic wonton soup. Great for a light-ish, not so fatty option, especially if you add lots of veggies like bok choi!
Pan fry them and throw them on top of udon noodles with a stir fry sauce. Top with Japanese mayo, sesame seeds, crispy onion and more sauce. This is a serving idea inspired by The Gyoza Guys, a London street food cart I love and it's SO GOOD.
Throw them in a stir fry. This is similar to the suggestion above, but allows for more room to wedge more vegetables in.
Throw them on jasmine rice with a side of sauteed veggies. A quick and efficient solution! Make sure to top liberally with your sauce of choice.
Have dumplings as a side for ramen. Crispy dumplings set to the side make a great snack next to a hot bowl of ramen. Instant is fine too – I don't discriminate… but make sure to add an egg on top to level it up!
Typical Chinese side dishes to have with Chinese dumplings/potstickers:
For a more "authentic" and typical dumpling feast, consider serving your Chinese dumplings with:
Fried rice (this chicken fried rice recipe and Chinese sausage fried rice recipe are both excellent comfort meals, whereas this dried scallop and egg white fried rice is good for fancier occasions)
Stir fried noodles or chow mein (here is a great chicken chow mein recipe or you can try this crispy chow mein with beef/broccoli recipe for something different)
Sauteed vegetables (Chinese broccoli, Green Beans, and Bok Choi are good choices), or go for a mix of simple Stir Fry Vegetables
Spring rolls if you're feeling extra gluttonous (These Seafood Spring Rolls are amazing)
'Simple' soups like egg drop soup, hot and sour soup, or even plain broth
Your favourite takeout classics like Mapo Tofu, Beef & Broccoli, Cashew Chicken, Sweet & Sour Chicken Balls, Ginger Beef, etc. (Sure they're Americanized Chinese food but they are delicious anyway and great with dumplings!)
Cucumber salad (for a lighter and more refreshing side)
I highly recommend visiting Wok Your World, Woks of Life or Omnivore's Cookbook for yummy and authentic Chinese recipes to pair with dumplings!
Alright, if you are still not sure what to serve with potstickers, look no further because I've asked some food blogger friends to share their best recipes, and here they are – 30+ tasty sides to eat with potstickers and dumplings for dinner, including:
Soups to serve with dumplings
Salads and vegetables to serve with dumplings
Rice and noodles to serve with dumplings
Other delicious sides to serve with dumplings
Some are authentic, some are fusion, and some just sound too good to not include. I hope you find something you like!
Soups to Serve with Dumplings
Let's start with soup! You can't go wrong with a tasty soup, and Chinese dumplings pair great with soup whether you're going for a Chinese classic, or expanding into a Pan-Asian meal with yummy soups from other Asian cultures.
Asian soups can range from a simple broth to a bowl filled with noodles, veggies and meat or seafood. No matter what though, soup is perfect when you don't know what to have with dumplings.
Chicken and Corn Egg Drop Soup
Looking for a light starter to go with your dumpling feast?
This takeout copycat Chicken and Corn Egg Drop Soup recipe from Wok Your World is the perfect blend of comforting, delicious, and light, making it an ideal side dish to serve with Chinese dumplings.
Made up of a rich, thickened broth, flavourful chicken pieces, sweet bites of corn, and dreamy wisps of egg, this is hands down one of the best Chinese soups you can make at home.
Chinese Hot and Sour Soup
This hot and sour soup is easy to make and is the perfect side for Chinese dumplings. It's made with spicy chili garlic sauce, soy sauce, vinegar, and loaded with tofu and mushrooms! The perfect palette cleanser between bites of potsticker… mm mm!
Click here for the recipe from Drive Me Hungry.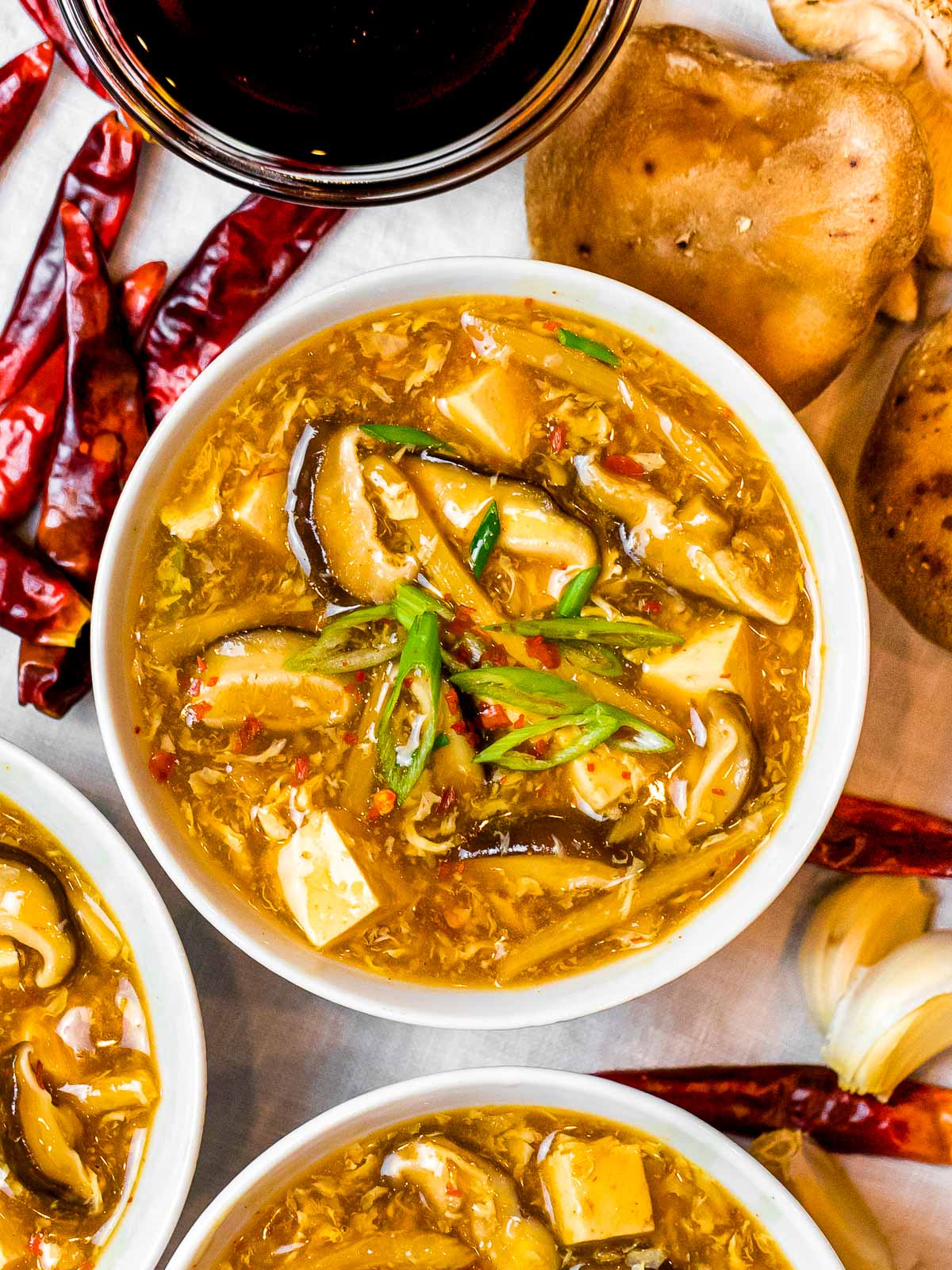 Vegan Thai Coconut Soup
A combination of chickpeas, coconut cream, yellow curry and vegetable broth is used to create the base for this Vegan Thai Coconut Soup. It's simple to prepare and full of flavor.
Since this soup is already a pretty filling recipe, having some potstickers on the side would be a great way to round out the meal for a yummy "better than takeout" dinner at home.
Click here to get the recipe from Marathons and Motivation.
Tomato Egg Drop Soup
Tomato Egg Drop Soup is a common Chinese favorite (the ultimate comfort food, really!) and it's perfect for serving with dumplings for dinner.
Click here to get the recipe from Oh Snap! Let's Eat!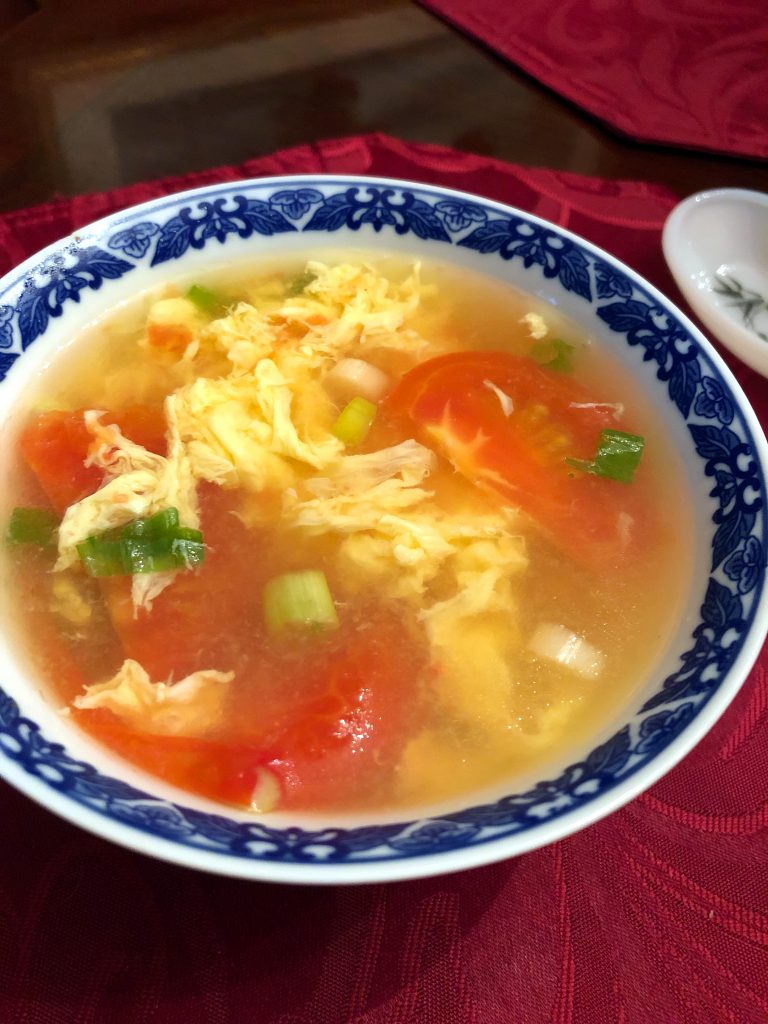 Miến Gà (Vietnamese Clear Noodle Soup)
Pho is more typically served with Cha Gio or summer rolls, but in my opinion, dumplings and pho make a great pairing too.
If you agree, think of this clear noodle soup as the easy way to make pho; it is light but still incredibly satisfying. It can be done in just about an hour and you will still get to enjoy all of the wonderful aspects like tender chicken, savory broth, and fresh aromatics.
Click here to get the recipe from Season + Thyme.
Asian Chicken Noodle Soup
This easy Asian chicken noodle soup is made with a delicious Asian style broth flavored with garlic, ginger & hot chili oil… AKA excellent flavours to pair with Chinese dumplings!
Click here to get the recipe from Drive Me Hungry.
Egg Drop Soup
This Easy Egg Drop Soup recipe will take you only minutes to cook and it tastes delicious! Plus, if you shop at your local Asian market or local grocery store, you can pick up some pot stickers to serve alongside it as well for a quick and easy meal.
Click here to get the recipe from Dancing Through the Rain.
Photo via Dancing Through the Rain
Salads and Vegetable Sides to Serve with Chinese Dumplings
Dumplings and potstickers are rich and full of umami flavor, so a vegetable or salad can be a refreshing accompaniment. While I usually embrace the utter gluttony of stuffing my face with dozens of dumplings, nary a veggie in sight, these are some great dumpling side dishes to try if you're healthier than I am.
Simple Vegetable Stir Fry
For a healthy but still delicious side to serve with dumplings, consider whipping up a rainbow vegetable stir fry!
This simple vegetable stir fry recipe from Wok Your World incorporates a vibrant mix of veggies, all bound together by a light sauce that pairs perfectly with any array of gluttonous dumplings.
Gai Lan (Chinese Broccoli) with Oyster Sauce
A very common veggie dish that's served at Dim Sum (in fact, one of the few vegetable dishes that Dim Sum restaurants offer) is Chinese Broccoli (AKA Gai Lan) served with a topping of flavourful oyster sauce.
And if you're wondering how to make it at home, the great news is it's super easy.
This easy Gai Lan (Chinese Broccoli) with Oyster Sauce recipe from Wok Your World couldn't be simpler to throw together, making it the perfect stress-free side to serve with dumplings.
Or, for something a little heartier, consider making this Gai Lan with Beef recipe instead – it's just as good, with some extra protein in there for good measure.
Cantonese Style Fruit and Shrimp Salad
I know it sounds weird, but Fruit and Shrimp Salad is actually a common dish served at Cantonese banquet meals, so I felt it worth including in our roundup of dumpling side dishes.
Juicy, refreshing, and surprisingly good, this 'salad' consists of fruit and seafood (some people add lobster!), all tied together with a creamy dressing.
Curious to give it a try? This Cantonese Style Fruit and Shrimp Salad recipe from Wok Your World is ultra quick to whip together, and can be prepped in advance, making it an ideal side dish to serve with dumplings in a big pot luck scenario.
Easy Crunchy Quinoa Cabbage Salad
While not a conventional side for Chinese dumplings, this salad is a great side idea if you want something clean to go with your potstickers.
In addition to quinoa and cabbage this salad is loaded with black beans for extra protein and carrots and sunflower seeds for extra crunch. This salad is delicious on it's own as a light lunch but is just what to serve with potstickers if you want something lighter.
Click here for the recipe from Thrifty Frugal Mom.
Asian Green Bean Salad
Sauteed veggies are a common side dish to pair with Chinese dumplings, but for a more refreshing side, consider a veggie-dense salad instead!
In this recipe, green beans are flash cooked in boiling water and tossed with a tasty Asian marinade. The salad only needs 30 minutes to absorb the flavors, but it can be made in advance. Prep it the night before to serve with potstickers for a nice balanced meal.
Click here for the recipe from Jam Jar Kitchen.
Stir-Fried Bok Choy with Soy Sauce and Butter
Growing up, I would say bok choy was the #1 vegetable side dish we would pair with everything, from plain rice and noodles to yes, even dumplings!
If you need a recipe, this Low-carb Stir-Fried Bok Choy with Soy Sauce and Butter is a good choice, with the bonus that it can also be made gluten-free by using gluten-free Oyster Sauce and Soy Sauce.
Even if you think you don't like bok choy, you will want to try this the next time you make Chinese dumplings.
Click here to get the recipe from Kayln's Kitchen.
Stir-Fried Snow Peas
Another awesome Chinese veggie side dish is snow peas.
These stir fried snow peas can be ready in about 15 minutes. Loaded with flavorful garlic this simple, crunchy, and delicious side dish is refreshing and easy to prepare.
Click here to get the recipe from Green Bowl 2 Soul.
Easy Asian Cucumber Salad
This easy Asian cucumber salad has minimal ingredients, is quick to make, and can be made in advance. It is a great no-cook side dish that packs flavor, so it's perfect to serve with dumplings.
Click here to get the recipe from Elise Tries to Cook.
Roasted Broccolini
Broccoli and Chinese Broccoli (AKA Gai Lan) are both very common accompaniments for dumplings, especially when sauteed in garlic.
Well, Broccolini is a fun cross-breed of these two, and a simple roasted broccolini is an easy side dish that is perfect for pairing with your favorite Asian dishes, including dumplings. It's light, flavorful and filling… plus even healthy too!
Click here to get the recipe from Wholesome Yum.
Scrambled Eggs with Zucchini
Scrambled eggs with tomatoes are a classic Chinese comfort food that pairs great with dumplings, but other egg dishes are worth experimenting with as well.
Scrambled eggs with zucchini celebrates fresh summer produce. This easy side is simply seasoned with salt and pepper and a sprinkle of parmesan cheese. Definitely a bit different than your usual Chinese dumpling side, but might be a nice way to sneak in veggies to your spread.
Click here to get the recipe from Ashcroft Family Table.
Photo via Ashcroft Family Table
Crunchy Asian Ramen Noodle Salad
Crunchy Ramen Noodle Salad is an easy recipe for summer parties and potlucks. This simple side dish is made with crunchy noodles, fresh veggies, and a delicious dressing that brings all the flavors together.
Click here to get the recipe from Homemade Interest.
Photo via Homemade Interest
Chinese Asian Coleslaw
Chinese Asian Coleslaw is not your typical coleslaw. Made wth cabbage, snow peas, and carrots, this bright and flavourful slaw would be a great accompaniment/palette cleanser for a dumpling-dense meal.
Click here to get the recipe from This Old Gal.
Photo via This Old Gal
Asian Zucchini Noodle Salad
This Asian Zucchini Noodle Salad with Ginger Sesame-Soy Dressing is a vibrant, wholesome choice to add to the menu. It makes for a delicious side dish to dumplings on its own, but feel free to add grilled chicken or shrimp to make it a more filling meal.
Click here to get the recipe from Valerie's Kitchen.
Rice and Noodles to Serve with Chinese Dumplings
Everyone loves rice and noodle dishes, and luckily, they act as perfect sides for Chinese dumplings and potstickers too. Whether it's perfectly cooked white rice or spicy noodles, the following recipes can be exactly what to serve with Chinese dumplings.
Chicken Fried Rice
Fried rice is the perfect side dish for dumplings, and it doesn't get better than this simple chicken fried rice recipe via Wok Your World that is packed with colorful veggies, juicy chicken and tons of flavour.
House Special Fried Rice
Looking for another fried rice dish to go with your dumplings? This fried rice recipe is loaded with veggies like edamame and corn and seasoned with garlic, ginger, soy sauce and sesame oil. It's flavorful and cooks quickly for an easy, protein packed side dish.
Click here to get the recipe from Mae's Menu.
20 Minute Sweet and Spicy Noodles
These Thai-inspired sweet and spicy noodles are ready in just 20 minutes. The chopped peanuts add a delicious crunch to this tasty side, which would pair great with dumplings on the side or even on top!
Click here to get the recipe from Served from Scratch.
Photo via Served from Scratch
Dump and Start Instant Pot Coconut Rice
For a Thai twist on serving Chinese dumplings, this fragrant and flavorful Instant Pot Coconut Rice is a simple side dish that is exactly what to serve with dumplings when you want something easy and simple.
Click here to get the recipe from Budget Delicious.
Yakimeshi (Fried Rice)
Easy to make in just 15 minutes this Fried rice is the easiest side dish you can make to go with dumplings. Yakimeshi is a Japanese take on fried rice, but would be just as tasty with Chinese dumplings or gyoza.
Click here to get the recipe from Drugstore Divas.
Sesame Ginger Noodles
Made with spaghetti style shirataki noodles and garlicky soy, ginger sauce, these noodles are low carb but full of flavor and are perfect for serving alongside potstickers and Chinese dumplings.
Click here to get the recipe from Peace Love and Low Carb.
Cauliflower Fried Rice
Cauliflower Fried Rice is a lighter, low-carb and healthier alternative to traditional Chinese fried rice. It's the perfect side dish for all of your favorite Asian-inspired meals, and the low-carb aspect helps you justify a few extra dumplings, no?
Click here to get the recipe from Lemon Blossoms.
Spicy Red Sriracha Quinoa
Give your tastebuds a kick with this flavorful and spicy Red Sriracha Quinoa. It's not for the faint of heart but it's perfect for spice lovers and it's also gluten free and vegan!
Top it with some Chinese dumplings and you've got a fiery foolproof meal.
Click here to get the recipe from Strength and Sunshine.
More Tasty Sides to Serve with Dumplings
If you still aren't sure what to serve with potstickers, try one of these tasty recipes to create a grand Pan-Asian feast!
Sweet and Sour Chicken Balls
If you're already planning a gluttonous dumpling feast, then another tasty Chinese classic to add to the mix is sweet and sour chicken balls.
These crispy balls of perfection consist of chicken dipped in a thick batter, then deep fried until golden brown. Paired with a sweet and sour sauce, this is one of the yummiest sides to enjoy with dumplings we can imagine.
Vegan Summer Rolls
Tasty rice paper summer rolls are filled with fresh veggies and paired with a flavorful peanut sauce. Serve alongside Chinese dumplings or potstickers for a delicious Pan-Asian dinner.
Click here for the recipe from My Plantiful Cooking
Chili Garlic Tofu Scamble
Protein-rich tofu scramble is an easy 20-minute dish that can be served alongside potstickers. Just add your favorite vegetables and sauté with a flavorful chili garlic sauce.
Click here to get the recipe from Go Healthy Ever After.
Pork Spring Rolls
This hearty appetizer combines vegetables, rice noodles and pork in crispy fried spring roll wrappers.
NOTE: Spring rolls are one of my favorite gluttonous sides to have with dumplings, and if you don't mind all the carbs, you should definitely try having them altogether as well for a truly grand feast that will rock your world.
Click here to get the recipe from Sustain My Cooking Habit.
Photo via Sustain My Cooking Habit
Tofu Sesame Toasts
This tofu sesame toast appetizer is easy to make and doesn't require a deep fryer. This must-try dish is a vegan take on prawn toast, a well-known Chinese appetizer that goes great with dumplings and other yummy sides!
Click here to get the recipe from It's Not Complicated.
Scallion Pancakes
Crispy on the outside, soft and flavorful on the inside – scallion pancakes are a delicious starter or side. I have them with dumplings all the time when I decide to have DIY dim sum at home and it's the best.
Click here to get the recipe from The Art of Food and Wine.
Photo via The Art of Food and Wine
Lettuce Wraps with Teriyaki Chickpeas
This 15 minute appetizer is so fun to eat. Refreshing lettuce is filled with a flavorful chickpea and teriyaki filling that's perfect for a light lunch, snack or side dish.
Click here to get the recipe from Plant Prosperous.
Photo via Plant Prosperous
Crab Cream Cheese Wontons
What better thing to serve with dumplings than… more dumplings?
These crispy wontons are stuffed with a flavorful and juicy crab filling. With this recipe, you can enjoy a crunchy side that's cheaper and faster than takeout, with an optional Sweet & Sour dipping sauce recipe included.
Click here to get the recipe from Baking Beauty.
Fresh Vegetable Spring Rolls
These vegetable spring rolls are the super fresh and healthy counterpart to fried egg rolls.
They are loaded with bright green lettuce leaves, thin bean threads, bean sprouts, and crunchy matchsticks of carrots, cucumbers, and red peppers. Serve the handheld salad with a peanutty sesame dipping sauce.
Click here to get the recipe from Amy Casey Cooks.
Photo via Amy Casey Cooks.
We hope you enjoy this list of what to serve with Chinese dumplings and potstickers!
Let us know in the comments if you have a favorite side that you like to serve with dumplings for dinner.