Bao have been a staple in Chinese cuisine for centuries, and with their recent surge in popularity all over the world, we've been blessed with all kinds of creative bao and fusion twists that are as delicious as they are aesthetically pleasing.
Growing up in a Chinese-Canadian household, I've been munching on bao (Chinese for 'bun') since I was a little kid… from BBQ Pork Bao at dim sum to the famous pork belly gua bao making waves in hip restaurants all over the globe.
Little wonder why I consider these to be a must-have on any global dumpling bucket list.
Fortunately, these soft, fluffy buns are easy to make at home and the filling options are almost endless.
Not sure what to serve with bao? Don't worry, I have loads of tasty suggestions, from droolworthy fillings to side dishes that make the perfect accompaniment to a bao feast. So, I hope you enjoy this article full of ideas on what goes well with bao (buns)!
PS: If you're into bao BUNS, you might also like my list of bao PUNS. Plenty of bao funs guaranteed.
Save this post on Pinterest for later:
First: Is it Bao or 'Bao Buns'?
As bao has soared to popularity across the world, so have arguments around what to call them.
To clarify, the term "bao buns" is actually redundant, since "bao" literally translates to "bun" in Chinese.
So, when I say "I ate 5 BBQ pork bao yesterday at dim sum", what I'm really saying is a) I have no self control and b) I ate 5 BBQ pork buns. Referring to them as BBQ pork bao buns would be an unnecessary waste of a syllable.
But, bearing in mind how words get adapted and evolve over time, it doesn't make me mad or anything when people call them 'Bao buns'. In fact, I recognize how it can be confusing since Gua Bao (the fluffy folded disks with fillings loaded in like a sandwich – what people often call Bao Buns) is different than Baozi (completely filled buns), despite both being referred to as Bao.
In fact, sometimes I even say 'bao buns' when referring to Gua bao, just to differentiate them from Baozi.
But enough of my ramblings – hopefully now you can grasp the difference and can slyly say "Bao" to seem like you're in the know.
All that said, for the purpose of this article (frankly, mainly to optimize for search engines), I'll use both bao and bao buns interchangeably.
General Ideas for What to Serve with Bao Buns
So what goes well with bao buns? Due to their simple nature, bao have been adapted as a blank canvas by all kinds of Asian cuisines, along with Pan-Asian and Fusion restaurants who love to get creative. As such, the question of the best, most authentic fillings for bao buns is a tough one.
What I'll focus on instead for this first section (rather than argue over authenticity and traditional methods) is the most common/ubiquitous options for fillings for bao, whether they be the traditional recipe for gua bao, or other popular variations that I find especially tasty.
The most typical fillings for gua bao (bao sandwiches):
Pork belly, pickled mustard greens, cilantro & peanuts: This is a classic combination devoured everywhere, from Taiwanese street food stalls to hip Asian restaurants around the world. If it's your first time making bao at home, you can't go wrong with this!
Fried chicken with pickled onion/cucumber and kimchi or sriracha mayo: There is something truly magical about this combination. I've made it many times, usually with sriracha mayo, and it's incredible. Adding kimchi or a kimchi mayo can add a nice kick though!
Any combo of a protein + pickled vegetables + crunchy toppings like green onion, sesame seeds and a tasty sauce: Honestly, making delicious bao isn't complicated. Think of these pillowy buns as a blank canvas for your favourite flavours. Any combination of your favourite protein, pickled veggies, and crunchy toppings along with your favourite sauce is guaranteed to taste amazing.
Popular bao fillings for Baozi:
This post mostly focuses on Bao 'Sandwiches', but I figured it might be helpful to showcase some common fillings for enclosed bao too.
BBQ Pork (Char Siu): My family is Cantonese so this is my absolute favourite – tender roasted pork in a sweet, sticky and savoury marinade. Here is my dad's recipe for making Char Siu in an air fryer.
Minced pork, Chinese sausage & quail egg: This is an irresistible combo used in Vietnamese Banh Bao – perfect for any time of day!
Ground meat or vegetables: Anything that works well in a regular dumpling (like my foolproof pork dumpling recipe) would also lend itself perfectly to Bao.
Sweet fillings like Sesame Paste, Red Bean Paste, and Sweet Custard: Yes, Bao comes in sweet variations too! These are just a few of my favourites from Chinese cuisine. They're great as part of a dim sum spread, or just as a sweet little snack.
BONUS – Sweetened condensed milk: Mantou are plained steamed buns super similar to Bao that are commonly eaten as a dessert by dipping into sweetened condensed milk (all the better if the mantou are fried). I cannot overstate how tasty this is, so if you want a fun dessert idea or are looking for a way to use up leftover bao buns, then consider adding this to your meal.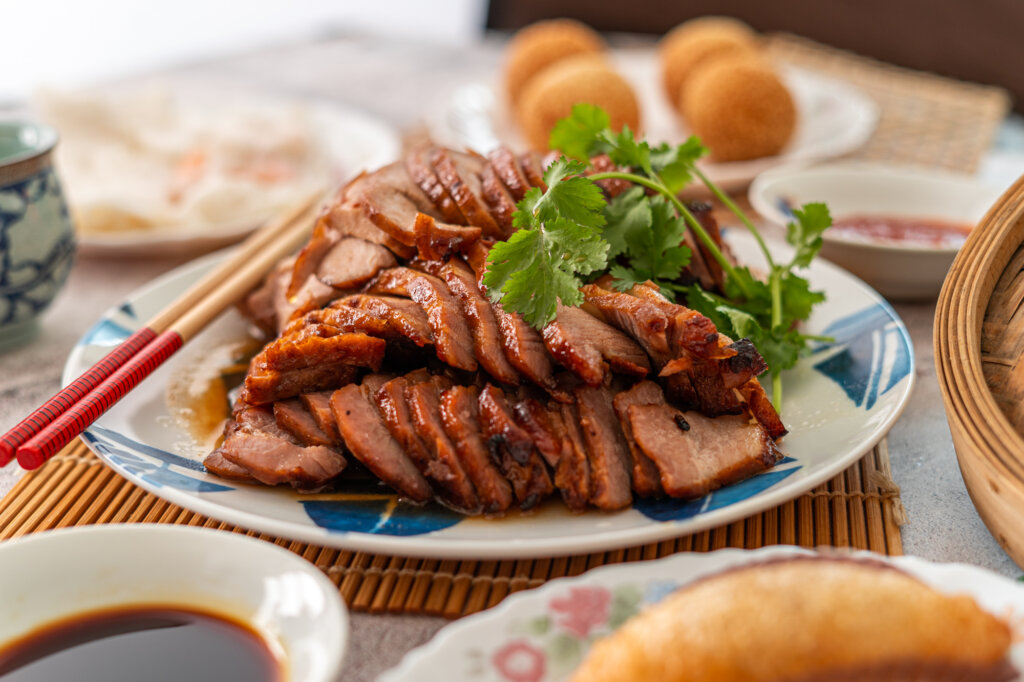 Popular side dishes to serve with bao:
Bao are often a street food or snack eaten on their own, but if you're looking for a way to make a more balanced meal out of it, here are some ideas on what to serve with bao:
Other dumplings & dim sum dishes: My ideal bao feast would include a big assortment of other tasty dumplings and dim sum dishes like congee, cheung fun, steamed spare ribs, etc. Here's a page with excellent dim sum recipes to try.
Noodle soup (e.g. ramen): This is not a traditional pairing by any means, but with bao's rising prominence in the Western world, it has become very common to enjoy Bao as a side dish to ramen or some other kind of noodle soup.
Sauteed vegetables: For a healthy side dish for your bao, consider some sauteed veggies like Chinese broccoli, Green Beans, and Bok Choi or a mix of healthy but delicious Stir Fried Vegetables
'Simple' soups: For a light dish to go with bao, consider starting with a simple and clean soup like egg drop soup, hot and sour soup, or even plain broth
Cucumber salad: Ideal for a lighter and more refreshing side dish to bao
Looking for more ideas? Below, I've asked some food blogger friends for their best recipes and ideas, ranging from authentic and typical fillings/sides to more creative and unique options that are still delicious. I hope you enjoy this list of what to serve with bao!
Bao Bun Filling Ideas
Alright – now let's get to some bao filling recipe ideas! As mentioned above, chicken, pork, tofu and veggies all make delicious bao bun fillings. From slightly sweet to hot and spicy, here are some ideas and recipes from my food blogger friends – I'm sure you'll find something to go perfectly with your bao.
Easy Vegan Hoisin Seitan Ch'kn Bao
Easy to make bao bun sandwiches are stuffed with Hoisin Seitan 'chkn' along with lots of herbs and pickles!
Click here to get the recipe from The Vegan Larder.
Easy Char Siu Bao
Char Siu Bao or Steamed BBQ Pork Buns are easier to make than you think! This recipe provides both Instant Pot and slow cooker directions for the filling.
Click here to get the recipe from All Ways Delicious.
Sweet & Spicy Shredded Pork
This sweet & spicy pulled pork slow cooker recipe is SO EASY to make and tastes great in bao buns.
Click here to get the recipe from Keto Millennial.
Instant Pot Chinese BBQ Pork
No need for a trip to Chinatown! Make your own moist and super tender Instant Pot Char Siu (Pressure Cooker Char Siu Chinese BBQ Pork).
Click here to get the recipe from Amy + Jacky.
Easy Vegan Bao Buns
Delicious Bao Buns are filled with a tasty combo of carrots, onion, garlic, Shitake Mushrooms and Bok Choy. Then, they are pan fried in sesame oil for added flavor.
Click here to get the recipe from Marathons & Motivation.
Steamed Pork Buns
Craving authentic steamed pork buns complete with fluffy bao buns filled with juicy pork filling? Try this recipe that is guaranteed to impress even the most traditional lovers of baozi.
Click here to get the recipe from Alice's Cookbook.
Red Curry Milk Pork
Braised pork butt yields a tender pulled pork. With Thai flavors, it is the perfect stuffing for steamed bao buns easily available in the freezer section of your local Asian market! Better double the recipe as these are going to go fast!
Click here to get the recipe from Global Kitchen Travels.
Sticky Pork
Delicious Sticky Pork Bao Buns with Quick Pickled Carrots and Quick Pickled Cucumbers. Perfect as a snack or a tasty meal.
Click here to get the recipe from Eat Little Bird.
Mushroom Bao
This amazing meat-free mushroom bao is so simple and quick to make and I promise you won't miss the meat!
Click here to get the recipe from The Cook Report.
Asian Popcorn Shrimp Bao
Put together a restaurant-quality, flavor-packed meal in just 15 – 20 minutes with crispy oven-baked popcorn shrimp, tossed in a spicy Asian sauce and then served with steamed Chinese bao buns (or slider buns) with crunchy carrots and spring onions!
Click here to get the recipe from The Flavor Blender.
Korean Chicken Bao
Soft and fluffy steamed mini bao buns filled with crispy Korean chicken are the perfect party food.
Click here to get the recipe from Kitchen Sanctuary.
Shoyu Chicken and Bahn Mi Slaw
These fluffy steamed Bao Buns are made snowy white and totally dairy free , stuffed with sweet pulled Hawaiian style shoyu chicken. The topping is a quick and delicious Banh Mi slaw that is colorful and fun, and we'll finish the whole thing with a drizzle of my very own Island Sauce.
Click here to get the recipe from Soul and Streusel.
Pixar Bao
After you watch the Pixar short, Bao, you are going to want to make authentic steamed pork buns also known as Bao. This Bao recipe comes from the mother of the director of the Pixar short Bao.
Click here to get the recipe from Savoring the Good.
What Sides to Serve with Bao Buns
Bao are among the most versatile foods on Earth. Depending on how you fill your bao buns, they can be salty, spicy, umami or sweet. Wondering what to serve with bao buns that will compliment those flavors nicely for a well-rounded meal? These side dishes are flavorful but not overwhelming, so the bao buns remain the star.
Chicken Fried Rice
If you really want to go into feast mode, fried rice is the perfect side dish for bao, and it doesn't get better than this simple chicken fried rice recipe via Wok Your World that is packed with colorful veggies, juicy chicken and tons of flavour.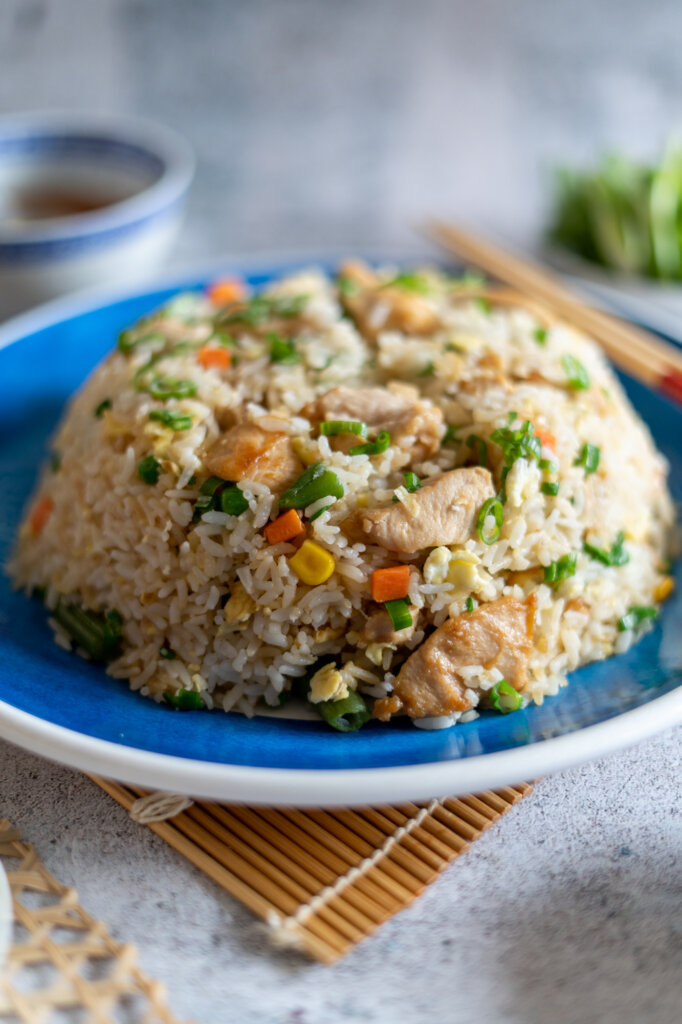 Egg Drop Soup
Egg drop soup is incredibly flavorful and has all of the traditional flavors found in a restaurant, without any extra thickeners or questionable ingredients.
Click here to get the recipe from Wholesome Yum.
Stir-Fried Gai Lan (Chinese Broccoli)
This delicious tender-crisp Chinese Broccoli Recipe (Stir-Fried Gai Lan) is made with simple ingredients including garlic and soy sauce. Ready in under 15 minutes, enjoy this flavorful vegetarian side dish with Bao Buns.
Click here to get the recipe from The Forked Spoon.
Cold Asian Noodle Salad
This Cold Asian Noodle Salad Recipe with homemade Ponzu dressing and chilled udon noodles is easy to make and bursting with flavors. This is just what to serve with bao buns.
Click here to get the recipe from Vegan in the Freezer.
Spicy Szechuan Noodles with Garlic Chili Oil
Spicy, garlicky Szechuan chili oil noodles made with garlic, Szechuan chili peppers, Lao Gan Ma chili crisp & fresh herbs are ready in about 10 minutes and are the perfect side to serve with bao buns.
Click here to get the recipe from Drive Me Hungry.
Garlic Sauteed Asparagus And Mushrooms
Garlic sauteed asparagus and mushrooms is a flavorful, vegan side dish to enjoy with bao buns. It also goes well with many entrees on weeknight dinners and comes together in just a few minutes.
Click here to get the recipe from Fit Meal Ideas.
Miso-Glazed Grilled Veggies
Portobello mushrooms and bok-choy are char grilled with ginger, garlic and tamari sauce seasoned with miso paste and togarashi seasoning. Serve with bao buns or your favorite Asian meal.
Click here to get the recipe from Profusion Curry.
Edamame Salad
Edamame Salad is healthy, vivid, and so crunchy ~ think bean salad meets rainbow slaw, with an Asian twist. It's a year round side dish that you'll adapt to the season and the contents of your fridge.
Click here to get the recipe from The View from Great Island.
Spicy Asian Cucumber Salad
A spicy Asian cucumber salad that's crunchy & refreshing with a bit of heat! Marinated cucumbers tossed with chili flakes, chili oil, and fresh herbs!
Click here to get the recipe from Drive Me Hungry.
Garlic Bok Choy
Crisp, fresh, and bursting with loads of unexpected flavor, this Garlic Bok Choy Recipe is guaranteed to be your new favorite side dish. Ready in just 10 minutes, enjoy this easy vegetarian side dish with chicken, beef, or fish.
Click here to get the recipe from The Forked Spoon.
Sweet and Smoky Peanut Slaw
Smoky and sweet, this slaw has it all. Crunchy cabbage, crispy Asian pear, shredded carrots, and a smoky peanut sauce to bring it all together. This gluten-free and vegan side dish will bring new meaning to the term coleslaw.
Click here to get the recipe from Strength & Sunshine.
Chinese Hot and Sour Soup
Chinese hot and sour soup is easy to make and ready in 15 minutes! Made with spicy chili garlic sauce, soy sauce, vinegar, and loaded with tofu and mushrooms!
Click here to get the recipe from Drive Me Hungry.
Ginger Ale Glazed Carrots
Tender carrots with a subtly sweet glaze…made with…ginger ale?! You better believe it!! These delicious ginger ale carrots are only 3 simple ingredients and one of our favorite easy side dish recipes!
Click here to get the recipe from The Soccer Mom Blog.
Vegan Ramen
This vegan ramen is easy to make, full of flavor and deeply satisfying. Pan-fried tofu, fresh bok choy, rich mushrooms, carrots and spinach round off a sensational rich broth. Warm yourself up with this veganized and gluten-free version of a famous classic Japanese dish.
Click here to get the recipe from Happy Kitchen.
Green Papaya Salad
Green papaya salad is a delicious and southeast Asian salad made of shredded raw papaya as the key ingredient. It is spicy, garlicky, sweet, sour, and crunchy, all in a single bite!
Click here to get the recipe from The Flavor Bells.
Cucumber Kimchi
Korean Cucumber Kimchi is a spicy, flavorful side to serve with Bao Buns. This quick version can be ready to eat in just 30 minutes.
Click here to get the recipe from All Ways Delicious.
Instant Pot Fried Rice
Bring the hibachi restaurant to your house, and make your own homemade Instant Pot fried rice!
Click here to get the recipe from Little Sunny Kitchen.
Spicy Chinese Stir Fry Green Beans
These spicy Chinese Stir Fry Green Beans are the perfect side dish and a great way to make Chinese takeout right at home.
Click here to get the recipe from Went Here 8 This.
What sides do you serve with bao buns?
Let me know in the comments if you have any other tasty ideas to suggest!