*FYI - this post may contain affiliate links, which means we earn a commission at no extra cost to you if you purchase from them. Also, as an Amazon Associate I earn from qualifying purchases. Check out our Privacy Policy and Disclosure. for more info.
Where can you find the best dumplings in New York City?
This controversial question is one that divides locals all across the city… and also one that's highly subjective!
Are you looking for a cheap but cheerful hole-in-the-wall experience? An upscale dumpling outing with inventive flavors? Or maybe just an adorable grandma who made them by hand and sells them by the sackful to those 'in the know'?
No matter your dumpling craving – there's somewhere in NYC that will satisfy it. With almost 24,000 dining establishments in the city to choose from, there is truly no shortage of delicious dumplings to be found.
And while one's quest to find the BEST dumplings in New York City is pretty much an unending task, the list below (assembled via local recommendations) is a good start.
It's focused more on places that are famous for their dumplings specifically, rather than restaurants that happen to have great dumplings on the menu… just an FYI before you NYC dumpling enthusiasts come at us with pitchforks.
Anyways, read on for a roundup of the top dumpling places in New York City, created with the help of local dumpling lovers.
While there's a lot of Chinese-style dumplings featured, true to the diversity of the city, we've also included some nice places to enjoy other dumplings from around the world too, like pierogi, khinkali, momos, and more. Apologies in advance if this post makes you hungry.
Is this list missing your favorite spot for dumplings? We'd love to feature more recommendations, so let us know in the comments where you think the best dumplings in NYC are!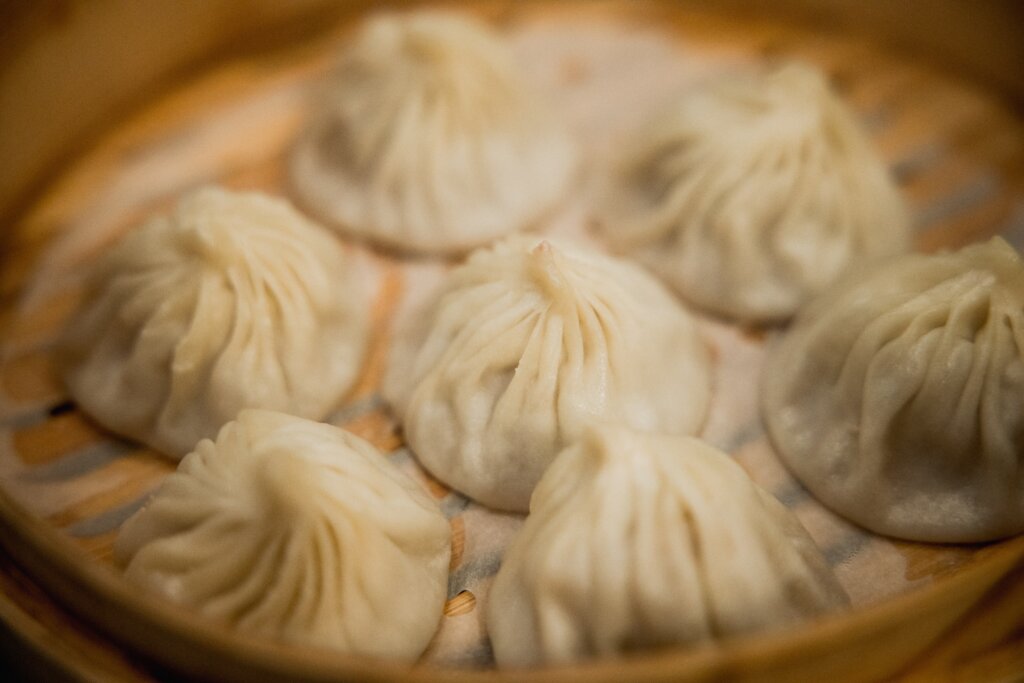 The Best Dumplings in Manhattan
Dumpling cravings hitting you in Manhattan? Here's a roundup of some of the top places to enjoy dumplings in Chinatown, the Lower East Side, and beyond.
Fried Dumpling
For a quick, no-frills, but delicious dumpling experience, "Fried Dumpling" as it's known on Google Maps is a Chinatown institution.
Perhaps better known as "that awesome dumpling lady on Mosco St", this spot is famous among locals for its incredibly priced dumplings and buns, available fresh on site or frozen for later consumption. With prices like 30 frozen dumplings for $6, it's little wonder why dumpling lovers from NYC come here in droves.
These are definitely some of the best dumplings in New York City if you're looking for a cheap bite, just don't come here expecting an atmospheric sit-down meal!
Dim Sum Go Go
Hailed by many as one of the top dim sum places in the city, it's little surprise that Chinatown favorite, Dim Sum Go Go is considered by many to have the best dumplings in Manhattan.
Dim sum here is freshly made to order, with an assortment of juicy dim sum classics like shrimp & pork siu mai and prawn dumplings, but what sets them apart from other NYC dumpling spots is their diverse range of vegetarian dumplings.
At Dim Sum Go Go, you'll find vegetarian dumplings filled with bamboo heart, lotus root, cabbage, asparagus, edamame, snow pea leaves, winter melon, mustard greens, and all sorts of unique and tasty flavors. If it's vegetarian or vegan dumplings in New York City that you're after, this place is a must-try.
PS: They also sell their delicious dumplings frozen so you can prepare them yourself at home!
Dumpling Man NY
The juicy delights offered by Dumpling Man NY in East Village are well known for their twist on classic dumplings, with a thick doughy wrapper and an array of unique dipping sauces like hot monster sauce (chili, wild pepper, garlic, rice vinegar, and soy sauce Chinese pickle) and Asian Tahini (with sesame paste, soy sauce, garlic and rice vinegar).
They also do surprise dumplings with unconventional fillings if you're looking for something a little different.
While this is definitely more of a "cash-only, grab & go" type place, it's a must-try if you're checking off spots on your "best dumplings in NYC" list.
Shu Jiao Fu Zhou
For some of the best cheap dumplings in Manhattan, look no further than Shu Jiao Fu Zhou, a simple hole-in-the-wall where the no-frills ambiance is more than compensated for by fresh quality and rock bottom prices.
With a small but mighty menu consisting of various soups and noodle dishes, your dumpling choices here are fairly limited compared to some of the other dumpling spots on our list… but if you're happy to gobble up classics like pork & chive dumplings, pork & cabbage dumplings, and wonton soup, then you're in for a real treat.
PS: Besides dumplings, this spot is known for their noodles with peanut sauce, so be sure to give them a try.
Real Kung Fu Little Steamed Buns Ramen
Its name may be a mouthful, but if it's a mouthful of tasty dumplings (and noodles!) you're after, then RKFLSBR is a good bet in Midtown.
With two locations to choose from, they offer a casual sit-down experience that offers a middle ground between "hole in the wall, order from a window" joints and overpriced restaurants where you're charged a premium for ambiance.
While service here is notoriously hit and miss, and price points are higher than you're able to find in Chinatown, the soup dumplings and fried pork buns here make RKFLSBR a worthy inclusion in this roundup of the top dumplings in NYC.
Ukrainian East Village Restaurant
Varenyky are Ukrainian dumplings that are, in a word, magnificent.
Essentially Ukraine's answer to Poland's beloved pierogi, Varenyky are half moon slabs of dough filled with an assortment of tasty fillings.
Whether boiled or fried, these dumplings are a must-try for any dumpling lover, and the family-run Ukrainian East Village Restaurant has become somewhat of a legendary place to try them.
Xi'an Famous Foods
With over a dozen locations scattered across Manhattan, Queens, and Brooklyn, Xi'an Famous Foods is the go-to place for many NYC foodies looking to satisfy a dumpling craving.
Sure, their hand pulled noodles are what put them on the map, but many New Yorkers swear by their irresistible lamb dumplings, which are served in a pool of tangy spicy & sour sauce.
Bonus Mention: Brooklyn Dumpling Shop
It's a divisive pick for sure, but we couldn't list the top places to eat dumplings in NYC without mentioning the city's latest viral dumpling obsession: Brooklyn Dumpling Shop.
Despite its name, this unique NYC dumpling spot can be found in East Village, and provides a unique 'contact-free' experience where dumplings are ordered, paid for, and collected through an Automat, without an ounce of human contact. An extrovert's nightmare perhaps, but an introvert's paradise.
Besides the anti-social process, this shop is known for their unique rotation of unorthodox dumpling fillings, from philly cheese steak dumplings and French onion soup dumplings to dessert dumplings filled with apple and chocolate.
While purists are quick to dismiss it as gimmicky, others have been quick to praise the tasty and creative flavors… so, maybe you should give it a visit yourself to see if it's worth the hype!
The Best Dumplings in Queens
Whenever people ask about the best dumplings in New York City, Queens is usually the borough the gets the most mentions… So, read on for some amazing places to eat dumplings in Queens:
Nan Xiang Xiao Long Bao
Queens is a borough with dozens of neighborhoods, but one is especially relevant for our list. Given Flushing's reputation as THE place to go for Chinese food in New York City, it's little surprise that many of the best dumplings in NYC can be found here.
Since opening its doors in Flushing in 2006, Nan Xiang Xiao Long Bao has racked up countless accolades for its authentic Shanghainese cuisine.
Among them? Recommendations in the Michelin Guide 9 years running, and a reputation for serving some of the best soup dumplings in New York City, with a mouthwatering assortment from Nan Xiang soup dumplings to pork and truffle, pork and crab, pork and abalone, and even sea cucumber, if you're in the mood for something a little different.
White Bear
Mention the White Bear in Queens and anybody will tell you to go for the #6. Wontons with chili oil are the star of the show at this no-frills hole-in the-wall spot. These flavourful gems are made to order, and well worth the relatively longer wait these days due to some recent viral features.
If you're looking for some of the best spicy wontons in NYC, White Bear is a must-visit.
Kung Fu Xiao Long Bao
Whether you're craving classic soup dumplings, pan fried dumplings or juicy dumplings in broth, you're spoiled for choice at the small Flushing gem, Kung Fu Xiao Long Bao, which many rank among the best hidden gem dumpling places in Queens.
For those with a sweet tooth, there's even chocolate xiao long bao on the menu!
Phayul
For some of the best Tibetan dumplings in New York City, look no further than Phayul in Jackson Heights.
Offering up juicy and moist momos (either steamed or fried), this legendary local favorite is a must if you're looking for some of the best dumplings in Queens.
The Best Dumplings in Brooklyn
Brooklyn is well known as a foodie's paradise, so it's little surprise that they have plenty of amazing dumplings to offer. Where you can you find the tastiest dumplings to eat in Brooklyn? Read on on for some popular picks.
M Shanghai
From steamed juicy pork buns and crispy chive and egg dumplings to spicy wontons and the classic soup dumpling, this Williamsburg spot is known as one of the best places for dumplings in Brooklyn.
While many Brooklynites venture out to other boroughs for their authentic Chinese fix, M Shanghai has earned a reputation its soup dumplings, which are known for their thicker skin and slurp-worthy broth.
Beyond soup dumplings, they have many other dumplings to offer as well, like sticky rice shu-mai, Shanghai-style wonton soup, and steamed buns. If you're looking for a tasty place in Brooklyn to satisfy all your dumpling cravings, this spot is a must-do.
Authentic Szechuan
Another gem known for their tasty dumplings in Brooklyn is Authentic Szechuan.
While (true to its name), its main focus is Szechuan-style Chinese dishes, they have made a name for themselves among locals for well-executed Xiao Long Bao (soup dumplings) and chili dumplings.
Nargi's Cafe
Nargi's is famous in Brooklyn for its Russian and Uzbek eats, but the reason it has made this list of the best dumplings in NYC is for its tasty Manti – steamed or fried dumplings which they offer filled with meat or (for a unique twist) pumpkin.
Since 2007, Nargi's Manti have attracted both locals and visitors alike, transporting them to Central Asia through their tastebuds.
If you're looking to diversify your dumpling portfolio, be sure to try some Manti, because they're one of our personal favorite dumplings from around the world.
Bonus Mention: Pastosa Ravioli
Okay, so some people might consider ravioli to be pasta, rather than a dumpling, but if you've read this "What Are Dumplings?" post, you'll know why I consider ravioli to be firmly in 'dumpling' territory.
After all, it's a tasty filling wrapped in dough!
And if you're looking for tasty ravioli in New York City, then Pastosa Ravioli is a top choice that's recognized by many as some of the best! This family-owned Italian food company has been around for three generations and has now expanded to over ten locations, although its first ever shop was opened in Brooklyn.
Sure it's a grab & go supermarket type affair rather than a sit-down meal, but this is definitely a place to visit if you're craving ravioli in NYC.
The Best Dumplings in Staten Island
Staten Island may not be super well known for its Asian dumpling scene, but there are a fair few gems to be found here if you're open to other international options. Read on for some amazing places to eat dumplings in Staten Island, from pierogi to pelmeni.
Luk & Bart Homemade Food
If you love pierogi (alternatively spelled as pierogies or perogies), this little Staten Island gem is a must-visit.
Pierogi are Polish dumplings consisting of a thick, toothsome skin with a variety of savory or sweet fillings, often slathered in caramelized onions and sour cream. They are perfect bites of comfort food, and ideal for satisfying any dumpling craving.
L&K offer a list of classic pierogi filling choices, from savory ones like potato-cheese and sauerkraut, alongside tasty sweet ones like cherry and strawberry. If you're craving dumplings in Staten Island, this spot is a must-try!
Lilya's Restaurant & Grill – Cafe Gourmand
If you're looking to broaden your dumpling horizons in Staten Island, another great place to check out is Lilya's Restaurant & Grill – Cafe Gourmand.
While best known for its wide variety of Armenian, Georgian, and Russian dishes, dumpling fans should flock here for two items in particular: Russian Pelmeni and Georgian Khinkali.
Pelmeni are Russian dumplings consisting of minced meat wrapped with thin dough, best topped off with some sour cream or butter, while Khinkali are soup-filled dumplings, similar to Chinese Xiao Long Bao.
If you love dumplings, trying these is a no-brainer.
The Best Dumplings in the Bronx
Similar to Staten Island, the Bronx aren't really known for their Asian cuisine… but that doesn't mean there's any shortage of dumplings to enjoy.
Where can you get the best dumplings in the Bronx? Here are some tasty choices:
Enzo's
Of all the dumplings from around the world, few are as beloved as gnocchi – pillowy balls of dough smothered in an endless list of possible sauces.
And of all the cuisines you can try in the Bronx, few are as prominent as good old Italian.
So, it stands to reason that if you're looking for the best dumplings in the Bronx, gnocchi should be on that list! While gnocchi is a staple menu item on pretty much any Italian restaurant menu, we've heard that the gnocchi from Enzo's is particularly worth fawning over.
The Original Dumpling Shop
Another delicious type of dumpling you can sample in the Bronx? Jamaican!
Jamaican Fried Dumplings are dough-based treats that are crispy on the outside and delicately soft on the inside. Perfect on their own or paired with meat and fish, this traditional comfort food can be eaten for breakfast, lunch or dinner… and one of the best spots known for it is The Original Dumpling Shop in the Bronx.
Doling out thousands of dumplings a day, this famous Jamaican spot offers tons of tasty dumpling combos for you to try. Saltfish, whiting fish, fried porgy, or fried plantains – you take your pick, but if the happy customer reviews are any indication, any choice will be delicious.
Did We Miss Any of Your Favorite Dumplings in New York City?
Let us know in the comments so we can add more recommendations to this list!